Unleash the 5G Power via Open Fronthaul Small Cell, DU, and UPF Acceleration
GENEViSiO will demonstrate the small cell NPN-110 solutions to provide a clear map for users. The small cell adopts the discrete structure from Open RAN infrastructure and an industrial fan-less design with a wide range of temperatures from -20°C to 65°C, sharing a vision of Private 5G networks to save energy bills and help enterprises achieve Net Zero through the efficient power consumption below 85W. In an end-to-end scenario with the software from Synergy Design Tek (Synergy), the small cell takes the ORAN front-haul split option 7-2x to link with O-RU via eCPRI, and the peak throughput is up to 1.2Gbps in download speed with 7DS2U and 0.53Gbps in upload speed. Open Fronthaul small cell solution is undoubtedly a hot topic in Open RAN since such solutions meet the market requirement triggered by private 5G networks. (More features on www.genevisio.com/open-fronthaul-small-cell)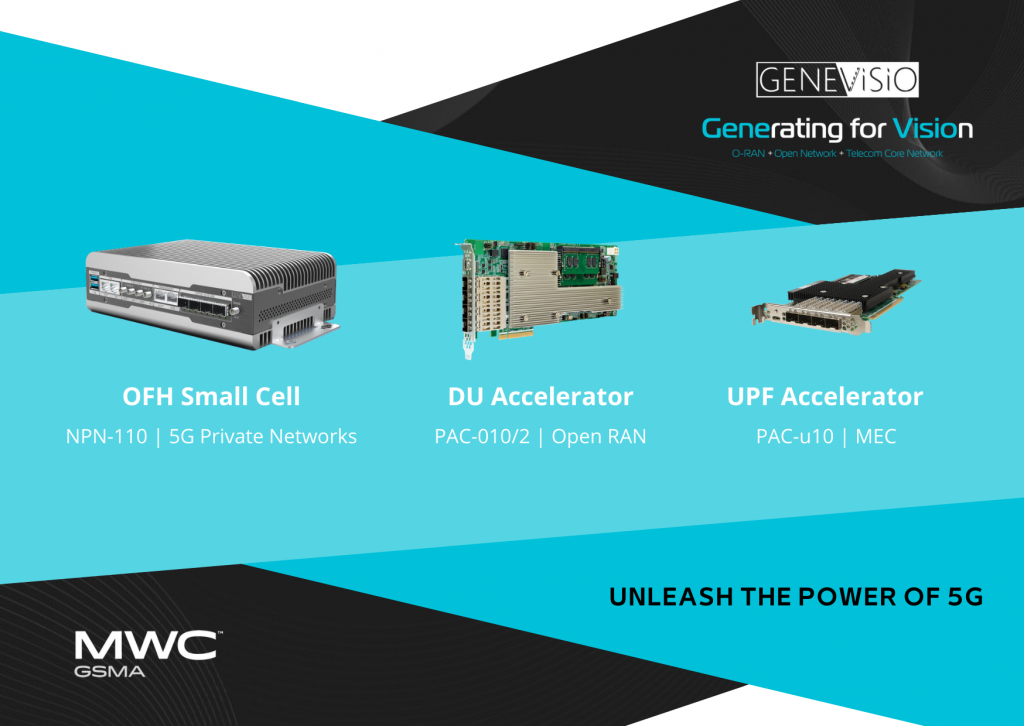 On the other hand, the DU accelerator card PAC-010 series is the world's 1st ASIC-based PCIe DU solution, which leverages NXP's Layerscape® Access family of programmable baseband processors (LA-12 series+LX-2 series) to provide multiple 10/25GbE eCPRI interfaces and maximum support for four 4T4R 100Mhz RRH/RU. Also, the PAC-010 series owns an accurate GNSS receiver and supports various time synchronization like SyncE and IEEE-1588, whose performance is only single-digit nanosecond time error and beyond the Class-C Boundary of IEEE 1588 G.8273.2. 
PAC-010 series can be easily deployed in the existing platforms to run the O-RAN fronthaul protocols, offload the DU function to the host, and work seamlessly with the CU in the MEC servers for the lower layer split (LLS) to ensure the quality of the ultra-low latency as well as the bandwidth. With the different software configurations to support high-PHY offload or full DU/REC offload, memory expansion, and 1pps & GPS timing synchronization, the PAC-010 series brings more flexibility and empowers the end customer with more 5G capabilities in the edge. (More features on www.genevisio.com/gvnews/5g-du-accelerator-card/)
In 5G deployment, UPF (User Plane Function) plays a crucial role in offloading multiple edge computing, deciding whether the 5G deployment can achieve various features, including low-latency, high-bandwidth edge computing, and network slicing technologies.
PAC-u10, the UPF acceleration from GENEViSiO, is designed with NXP LX2160 Arm® Cortex®-A72 cores up to 2.2 GHz with a single PCI Express slot in a full height, ¾ length form factor. This accelerator has four 10/25GbE fiber optic ports that function as N3, N4, and N6 interfaces, mainly responsible for routing and forwarding related functions of 5G core network user plane data packets, supporting multiple software functionalities, such as GTP-U, PFCP protocol, IPv4 and IPv6, packet routing and forwarding, upload (UL) and download (DL) Packet Detection Rules (PDR), Forward Action Rules (FAR), Usage Reporting Rules (URR), PFCP Session Reports, Jumbo frame, and IPSec.
In a word, not only a vital component to accelerate a close integration of networks and services but a practical implementation in 5G Multi-Access Edge Computing (MEC), PAC-u10 focuses on offloading user data streams, expected to unleash the power in 5G technology.
MWC Barcelona
Dates: February 27 to March 2, 2023
Site: Fira Gran Via, Barcelona (Av. Joan Carles, 64 08908 L'Hospitalet de Llobregat)
More news will come
About GENEViSiO Co., Ltd.
GENEViSiO, an advanced open network pioneer specializing in telecommunications, enables a variety of innovations to provide cutting-edge platforms for all areas, from RAN to core, and to foster the progress of telecom networks and private networks by "Generating for Vision".