Time Synchronization Flexibility
S-plane plays a critical role in 5G ORAN interoperability as RU needs to synchronize DU via option 7-2 interface. GENEViSiO inline DU acceleration card offers IEEE 1588 in PRTC and TBC mode with high-precision performance beyond class-C timing accuracy for Open RAN operation; the PRTC model can work as IEEE 1588 grand master mode with flexible time source interfaces.
Deployment Simplicity
The high-integrated kit offers a compatible package, including CU, DU, RU, L1/L2/L3 software, customized server, initial work service, and necessary accessories, which reduces complex obstacles for customers to build up and maintain a 5G network.
Cost Effectivity
GENEViSiO partners with top-tier vendors and leverage expertise in networking technology to bring to market a cost-effective O-RAN Starter Kit.
Power Efficiency
GENEViSiO ARM-based DU accelerator is a power-efficient design to implement IEEE 1588 and High-PHY functionality with a regular power consumption of around 65W and a maximum of under 75W, decreasing 25% to 35% power consumption than that of the traditional design architecture.
Features
Time Synchronization
IEEE 1588 / SyncE. The high accuracy time synchronization supports IEEE 1588 PRTC and TBC model with beyond Class C performance.
Flexible time source interfaces, including multi-band GNSS receiver with all GNSS system support, 1pps single-end and differential interfaces, 10Mhz single-end and ToD, and daisy chain support between different baseband unit.
3GPP Compliance (High-PHY)
NR; Physical channels and modulation: 3GPP TS 38.211 V15.10.0 (2018-06)
NR; Multiplexing and channel coding; for information: 3GPP TS 38.212 V15.13.0 (2018-06)
NR; Physical layer procedures for control; for information: 3GPP TS 38.213 V15.15.0 (2018-06)
NR; Physical layer procedures for data; for information: 3GPP TS 38.214 V15.16.0 (2018-06)
NR; Physical layer measurements; for information: 3GPP TS 38.215 V15.7.0 (2018-06)
3GPP Compliance (CU & DU)
RRC: 3GPP TS 38.331 V16.2.0
SDAP: 3GPP TS 37.324 V16.1.0
PDCP: 3GPP TS 38.322 V15.3.0
RLC: 3GPP TS 38.322 V15.5.0
MAC: 3GPP TS 36.321 V15.3.0
XnAP: 3GPP TS 38.423 V16.3.0
NGAP: 3GPP TS 38.413 V16.3.0
PDU Session U-Plane: 3GPP TS 38.415 V15.2.0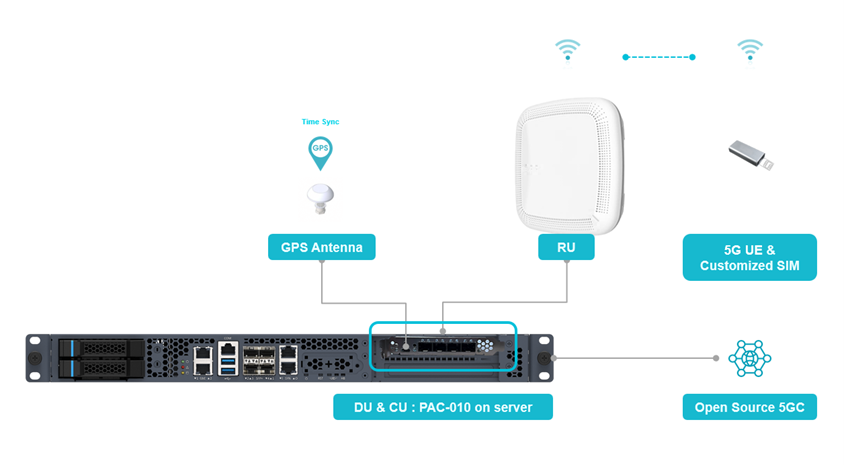 Technical Specifications
DU accelerator card PAC-010
Processor: NXP LX2160 + Dual LA1201
System Memory: 2 x 16GB, up to 2 x 32 GB (optional)
Network Interface: 4 x SFP28
Host connection: PCIe Gen3 x8 with gold finger x16
Cooling: Passive Heatsink
Certification: Designed for NEBS Level 3