ADLINK, COMPAL, GENEViSiO, Radisys, and Vicinity Roll Out the O-RAN Starter Kit to Accelerate 5G Deployment
Taipei, Taiwan (ROC) – June 19, 2023 – ADLINK Technology Inc. (ADLINK), Compal Electronic, Inc. (COMPAL), GENEViSiO Co. Ltd. (GENEViSiO), Radisys® Corporation (Radisys), and Vicinity Technologies Limited (Vicinity) today announced the launch of the Open RAN starter kit to accelerate 5G RAN deployment.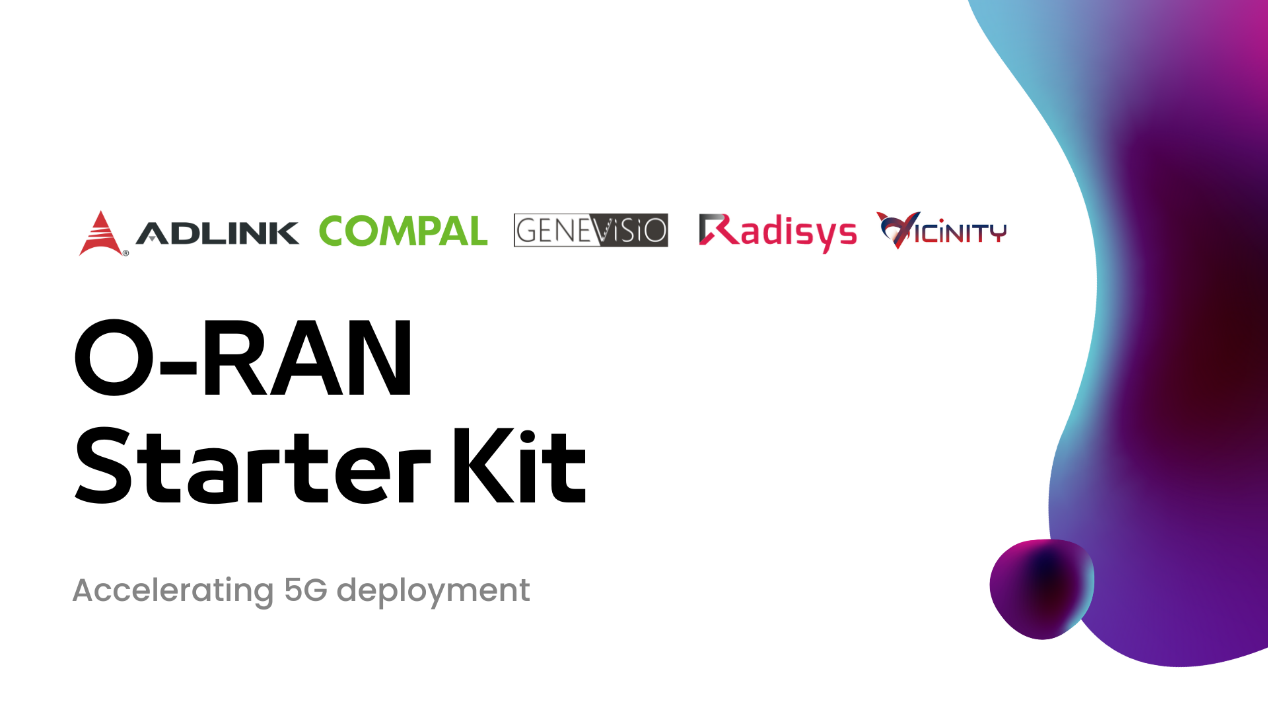 Open RAN starter kit enables faster and easier 5G deployment
The arrival of 5G technology has promised significant internet speeds and connectivity improvements for businesses and consumers. Despite its potential, 5G deployment has been slower than expected in many countries worldwide because of complex obstacles, such as high infrastructure costs, lack of interoperability, and spectrum availability.
In response to these obstacles, an Open RAN starter kit has been viewed as an appealing method to explore 5G RAN implementation by offering reduced deployment time, affordability, flexibility, and future-proofing. Through pre-selected hardware and software components, the Open RAN starter kit enables faster and easier deployment of 5G RAN, ultimately leading to a more pragmatic product map for solution integrators and operators.
Accelerating 5G RAN Engagement with high-integrated components
ADLINK, COMPAL, GENEViSiO, Radisys, and Vicinity partner in addressing the O-RAN starter kit, an interoperable kit that contains high-integrated hardware and software of the RAN infrastructure.
ADLINK's Edge Server MECS-6110 is equipped with a powerful Intel® Xeon® D-2100 family processor; for expansion, users can choose between two PCIe x16 Gen3 single-slot FHFL interfaces or one PCIe x16 Gen3 dual-slot FHFL interface. Additionally, there is a PCIe x8 Gen3 OCP interface available. With a compact 420mm depth and wide operating temperature from -5°C to +55°C, it's not necessary to create a new server room. Built-in Intel® QAT (QuickAssist Technology) enhances cryptographic, compression, and decompression performance. "The MECS-6110 is a 5G edge optimized platform. Its compact design and wide-operating temperature make it suitable for distributed architecture applications. Instead of pursuing extreme computing power, the focus is on power efficiency and key features such as QAT which are critical for ODU applications like the GENEViSiO Inline Accelerator Card. ADLINK has cooperated with GENEViSiO to design a custom air-guide to ensure the card is provided with sufficient air-flow to ensure that latency and bandwidth requirements are met." said Howard Chang, director of NCA-Network&Communication Product Division at ADLINK.
For O-RU, COMPAL launches its first ARM®-based 4T4R O-RU, Teak. The product boasts of a wide coverage with high throughput, high performance, and lower power consumption. Its compact design offers spectral efficiency and coverage enhancement. In compliance with OTIC Certification, Teak supports 10/20/40/50/60/80/100 MHz channel bandwidth, and provides an easy upgrade SW through OTA. COMPAL is also committed to Corporate Social Responsibility and Sustainable Development Goals (SDGs) by prioritizing green design and innovation. Mr. JS Liang, Vice President of COMPAL Smart Device Business Group, stated, "COMPAL is fully devoted to provide 5G RAN products that comply with the O-RAN standards. We work closely with our partners to provide end-to-end 5G O-RAN solutions and to implement in various applications, such as smart healthcare, smart factory, and smart city use cases. Our energy-efficient private network solution can effectively manage network performance, bring in significant TCO saving in deploying 5G enterprise private networks."
For O-DU, GENEViSiO inline DU acceleration card provides IEEE 1588 in PRTC and TBC mode with high-precision performance beyond class-C timing accuracy for Open RAN operation while S-plane plays a critical role in 5G ORAN interoperability as O-RU needs to synchronize O-DU via option 7-2 interface; the PRTC model can work as IEEE 1588 grand master mode with the flexible time source interfaces, such as GNSS, 1PPS, 10Mhz, and ToD. Additionally, GENEViSiO ARM-based DU accelerator is power-efficient to implement IEEE 1588 and High-PHY functionality with a regular power consumption of around 65W and a maximum of under 75W, which is 25%-35% less than the traditional design architecture. Byron Lin, CEO of GENEViSiO, said "GENEViSiO is delighted to join forces with our industry-leading eco-partners to launch the Open RAN solutions; we take immense pride in contributing to the innovation movement to create a future of seamless, wider connectivity through our ever-evolving design on DU accelerations. With unwavering confidence, we believe that this Open RAN starter kit will be an invaluable resource for 5G deployment and broaden further interest for customers."